Easy sandal buckle directions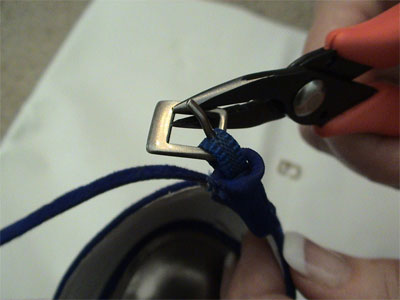 CUT OFF EXISTING BUCKLES. Do not damage elastic piece when cutting off existing buckle.
CORTE LAS HEBILLAS EXISTENTES. No dañe el pedazo elástico al cortar el existente de buckle.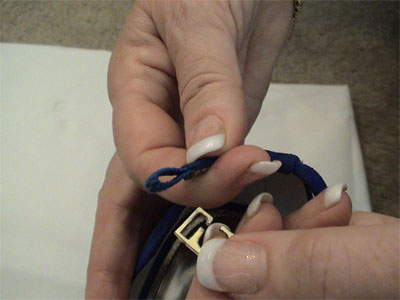 THREAD NEW ESB (SMALL OPENING) INTO LOOP ELASTIC PIECE THAT WAS BEHIND BUCKLE.
HILO DE ROSCA ESB NUEVO (ABERTURA PEQUEÑA) EN EL PEDAZO ELÁSTICO DEL LAZO QUE ESTABA DETRÁS DE HEBILLA.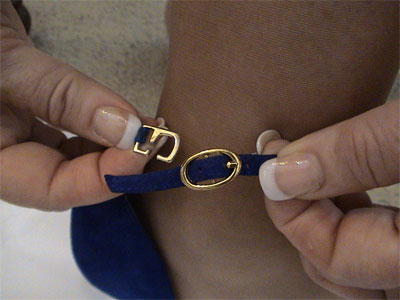 PLACE OTHER BUCKLE (PRONG) INTO LEATHER STRAP THAT BEST FITS YOUR FOOT.
COLOQUE LA OTRA HEBILLA (DIENTE) EN LA CORREA DE CUERO QUE ES LA MEJOR PARA SU PIE.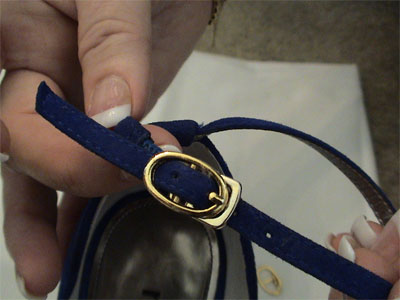 PLACE SHOE ON FOOT AND SLIDE LARGE OPENING IN ESB BUCKLE BEHIND BUCKLE THAT IS ON THE STRAP.
COLOQUE EL ZAPATO A PIE Y RESBALE LA ABERTURA GRANDE EN HEBILLA DE ESB DETRÁS DE LA HEBILLA QUE ESTÁ EN LA CORREA.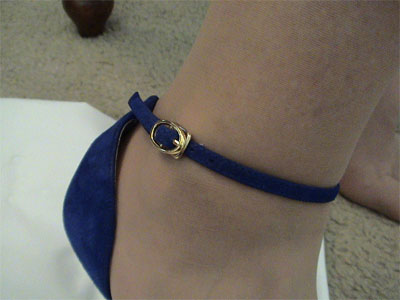 Not responsible for accidents removing buckle. Not responsible for any accidents wearing new buckles.
(USE SAFETY GLASSES AND GLOVES)
No responsable de los accidentes que quitan la hebilla. No espon- sable de cualquieres accidentes que usan hebillas nuevas.
(USA GAFAS DE SEGURIDAD Y GUANTES)